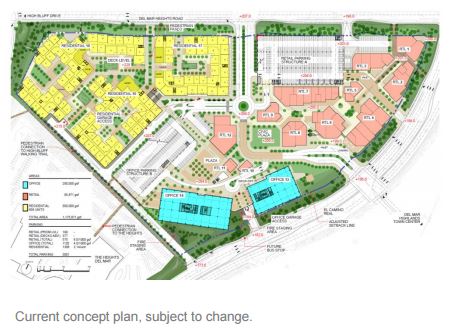 The Carmel Valley Community Planning Board (CVCPB) will hold a SPECIAL Meeting on Wednesday, January 13, 2016 at 7:00 pm at Cathedral Catholic High School, 5555 Del Mar Heights Road. The Agenda is attached here. This special meeting will have a single item, to consider the updated proposal for the One Paseo project.
Kilroy and the CVCPB have held a number of community workshops on updating the One Paseo plans. Information on those workshops can be found on the OnePaseo.com website. Specifically, scroll down to the PROJECT RESOURCES section, where the 9/24 Presentation has the most current update. You can also download the 9/24 Presentation by clicking on the link here.
Additional information can be found at the CV Planning Board Page on this site, or on the City's website at the Carmel Valley, San Diego Community Page.