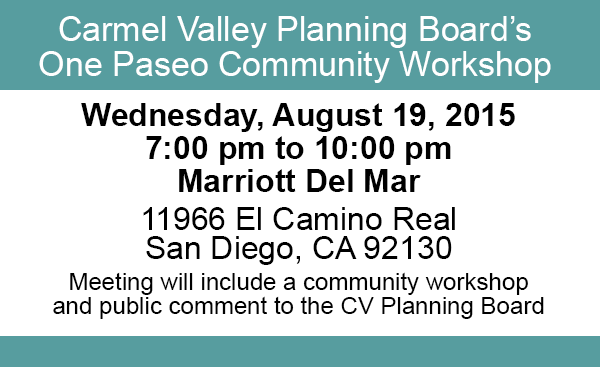 A special meeting of the Carmel Valley Community Planning Board has been scheduled for Wednesday, August 19, 2015 from 7:00 pm to 10:00 pm in the Grand Ballroom at the San Diego Marriott Del Mar located at 11966 El Camino Real, San Diego, CA 92130 for a board and community workshop and discussion of One Paseo, a mixed-use project planned on the corner of Del Mar Heights Road and El Camino Real.
NOTE: Hotel parking will be validated for the meeting attendees.
This is your opportunity to comment on a number of conceptual project layouts before the final arrangement is determined. If you attend this meeting, you will see a number of more specific plans AND have the opportunity to comment on the details, telling Kilroy what you like and dislike about each plan. The final project will be influenced by this community input, so here's your chance to be heard!
Many people assume that the project has already been finalized through some combination of a lawsuit settlement and a small group of citizens currently working with Kilroy to provide community input. This is not the case. The work so far has been to organize the issues, leading to a number of options that may be acceptable to the community.