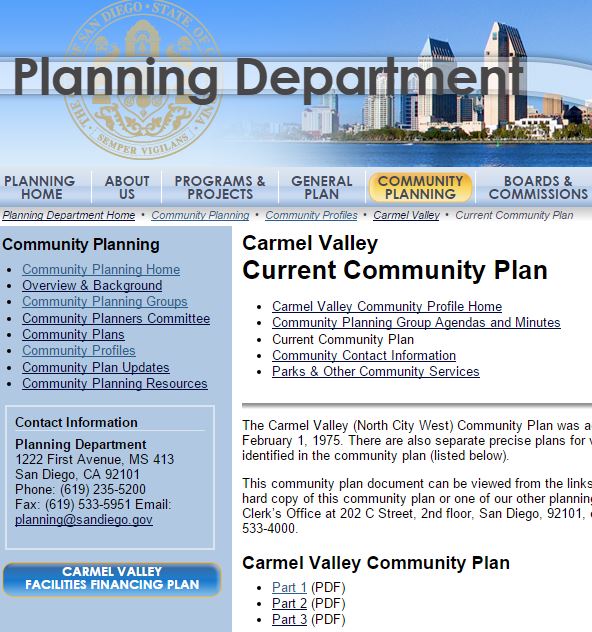 If you'd like additional information on the One Paseo project, the City has posted the requested Plan Update on the City's Carmel Valley Community Plan page. The update notes that you can now submit comments to the proposed plan amendment to the City. Comments on the amendment are requested by January 11, 2016. Comments should be provided either by email or postal mail to:
Bernard Turgeon, Senior Planner
1010 Second Avenue, Suite 1100, M.S. 413
San Diego, CA 92101
Email:BTurgeon@sandiego.gov
The December 2015 Draft Community Plan Amendment includes the following documents: a Cover Memo (PDF), an updated Carmel Valley Neighborhoods Land Use Map (PDF), a document that shows the Carmel Valley Community Plan text changes (PDF), and the proposed One Paseo Precise Plan Amendment (from December 2015).
The Carmel Valley Community Planning Board (CVCPB) will hold a SPECIAL Meeting on Wednesday, January 13, 2016 at 7:00 pm at Cathedral Catholic High School, 5555 Del Mar Heights Road. See the CVCPB Meeting Announcement for details. Additional information on the CVCPB can be found at the CV Planning Board Page on this site, or on the City's website at the Carmel Valley, San Diego Community Page.