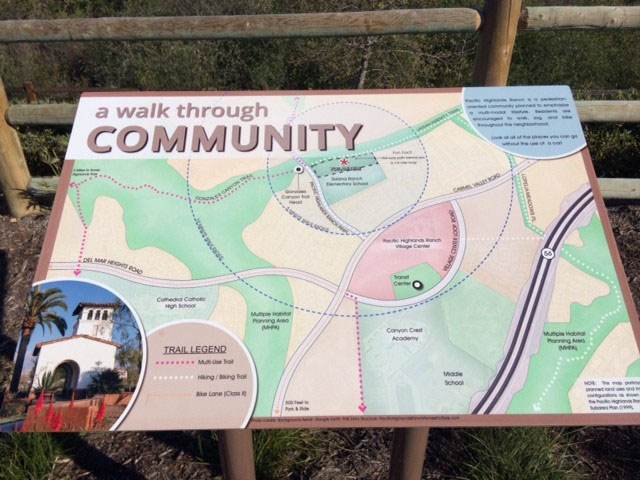 The new Solana Ranch Park will hold a grand opening ceremony on Friday, March 27, 2015 at 1:30 pm. Join Council President Lightner in this ribbon cutting ceremony at this great new park. Of course, after visiting the new park, you can run across the street to the new PHR Village center to enjoy a Starbucks coffee and shop at the Trader Joe's (which also opens on Friday, March 27!) It'll be a banner day for the Pacific Highlands Ranch community.
Solana Ranch Park is nestled between Gonzales Canyon and the Solana Ranch Elementary School in the community of Pacific Highlands Ranch. The design for Solana Ranch Park creates a destination for the residents of Pacific Highlands Ranch and embraces the walkable nature of the community. A turf amphitheater offers a flexible space for community events, a half basketball court and children's play area provide opportunities for play, and interpretive panels tell a story of the park's connection to nature, the surrounding community and the region's history.
NOTE: The Solana Ranch Park is located next to the new Solana Ranch Elementary School, 13605 Pacific Highlands Ranch Parkway San Diego, CA 92130.