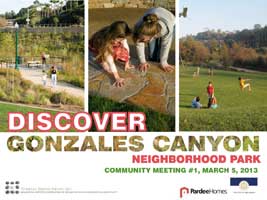 Here are the documents from the Gonzales Canyon Park introduction at the CV Rec Council on March 5, 2013. This park is in Pacific Highlands Ranch (PHR) to our east (out near Canyon Crest Academy (CCA), at the end of Del Mar Heights Road.) The plan is for the park to be completed by the end of 2014.
There are 4 documents -- Caution, they're large files! The first document is an Overview of the Area and Preliminary Designs, the second is Preliminary Design 1, the third is Preliminary Design 2, and finally, Preliminary Design 3.
There will be 2 committee meetings on this park: Thursday, March 21, 2013 at 7:00pm at the Pardee Offices in PHR, 6025 Edgewood Bend Court, San Diego, CA 92130 (behind CCA, near the fire station); and Tuesday, April 16, 2013 at 7:00pm at the same location. Here's the March 21 Gonzalez Canyon Park Meeting Agenda.